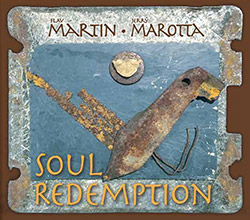 Pre-Order: February 6, 2018
Release: March 1, 2018
Soul Redemption is the debut release from guitarist/vocalist Flav Martin and drummer Jerry Marotta. This duet past due harmoniously blends modern folk rock with Italian pop music. Performed in a cafe in Italy or on the polo fields of Indio, these songs would feel comfortably at home in either environment.
Credited as one of the most innovative acoustic guitar players on the scene today, Flav Martin blends beautiful melodies with intricate technique, voicing, and a percussive style that leaves people saying "How does he do that?". Throughout his career Flav has performed with David Crosby, Al Stewart, Suzanne Vega, Tommy Emmanuel and more. Flav's many writing credits include Saturday Night Live, PBS, Canon Films. All but two of the songs on this album were written by Flav.
World renowned drummer, touring and session musician/producer Jerry Marotta has left his mark on countless recordings by Paul McCartney, Hall & Oats, The Indigo Girls, Marc Cohn, Sarah MacLachlan, and John Mayer to name but a few. He first entered the music scene as the drummer for Orleans with the hit single "Still the One" followed by a decade of performing and recording with Peter Gabriel. His rhythmic drumming and world music inspired percussion complement the acoustic flavor of Flav's guitar.
Backing up the duo are their long time friends Tony Levin (bass), Peter Primamore (piano), Thor Jensen (guitar), Mark Shulman (guitar), and Gary Schreiner (harmonica/accordion).
Tracklist:
1) Soul Redemption
2) Please
3) Drinking You
4) I Knew It Was You
5) Tell Me To My Face
6) Rio De Janiero
7) Wild Moon
8) Coffee Song
9) How Could You Leave Me Now
Produced by Jerry Marotta
Executive Producer Debra "Chappy" Chapman
Engineered by Bella Blasko, Matthew Cullen, Connor Milton, Pete Caigan, Adam Armstrong, Joe Quigley
Mixed by Michael Cozzi
Mastered by Chris Athens
Sculpture Art by Lucy Krupenye
Art Design by WellspringMediaGroup.com
Recorded at Dreamland Recording Studios (West Hurley, NY), Jersville Studios (Woodstock. NY), and Mojo Creative Arts Studio (Westerly, RI)
All songs written by Flav Martin
except "Tell Me To My Face" written by Allan Clarke, Tony Hicks, Graham Nash
"Coffee Song" written by Giancarlo Bigami, Riccardo Del Turco, Giorgio Antola
Online: flavmartin.com
Facebook: @FlavMartinMusic
Facebook: @JerryMarottaDrums
Instagram: @JerryMarottaDrums